The Development of AR and VR
AR stands for Augmented Reality, which is the generation of 3D in the physical world using eyewear, headset, or mobile applications. VR refers to Virtual Reality, which gives the users the impression that they have entered another world. It has a headset and is usually used with other devices to be more realistic. The concepts of AR and VR have been around for a long time in the computing industry, since about 20 to 30 years ago. Some people may recall that department stores had 3D game arcades at that time. When taking a look at nowadays, compared with the quality and advancements of technology, the price of AR and VR are much more reasonable.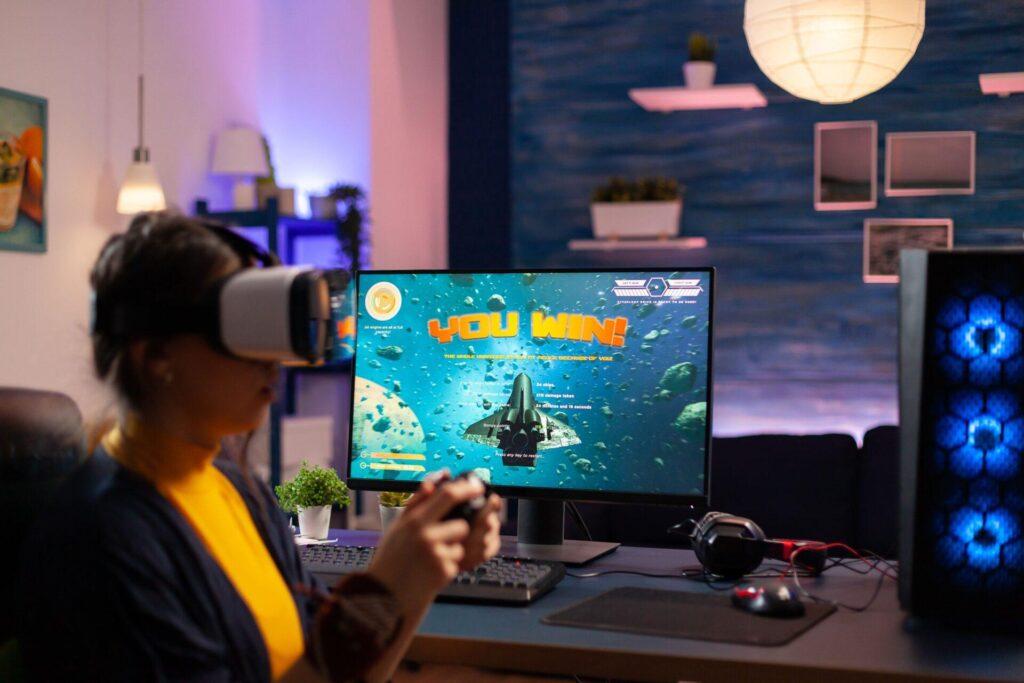 The Limitations of AR and VR
Although AR and VR are becoming more and more popular, commonly used, and easily accessible. However, there are still some limitations to be aware of before making a purchase.
Motion Sickness: Many people have suffered from motion sickness because of sitting still while watching motion, like a movie or animation. This symptom can occur when playing games. So, wearing AR or VR can undoubtedly create motion sickness due to a small screen showing a motion in front of the user, the heat and the weight of the VR.
Glasses Needed: Glasses are very important for people who have poor vision. Unfortunately, some AR and VR are incompatible with those who wear glasses. However, it can be adapted to use by people who wear glasses; by enlarging the space inside and worn over glasses or by adding focus adjustment.
Surroundings: Even though the appearance of AR and VR are like glasses, the user still needs to prepare the area before using VR because it will be unable to see the surroundings which can occasionally result in moving and hitting nearby objects.
Protecting the User's Privacy: Apple points this topic out since it poses a risk to users. Normally websites can detect pointers. When using a computer, the pointer is a mouse arrow, but the website cannot detect what the user is looking at or reading. In the form of VR, the pointer will be an eyesight. As a result, Apple claims that they will forbid pointer detection yet being able to identify the websites that users visit.
AR and VR Technology in Recent Days
Apple Vision Pro
A combination of VR and AR from Apple, which is planned for release in early 2024. It is designed for both entertainment and work. Being an AR will make it possible to see the outside environment which lessens limitations on area usage. The face scanning function can be used for online meetings which will make the Attendees be able to see the face of the person who is wearing Apple Vision Pro like they are sitting in front of the computers.
XREAL Air
The AR was designed to be like the shape of sunglasses. To utilize, just connect USC-B to other devices and the user can view the screen in a large scale. This technology does not rely on motion detection much which leads to think that perhaps the visual experience being sufficient for AR and VR technology.
Real-life AR and VR Beyond Gaming
From the AR and VR above, it can be seen that they are not just for gaming. Some people may want to have it for personal needs. Also, some organizations have already started to use AR or VR for working, such as
Work From Home: As mentioned in the Apple Vision Pro, which has a face scanning system, allowing meeting attendees to see the user's face. Using it with other applications or programs can become more realistic as if we weren't working at home. Which is suitable for anyone who desires an office atmosphere. Since many companies are currently working as hybrids, VR technology may be beneficial for many individuals.
Education: The Institute for the Promotion of Teaching Science and Technology (IPST) has created an application that enables students to use just a smartphone's camera to a textbook and students can see 3D images for better understanding and to motivate interest in learning.
Working or Training: Mostly used to train employees, for example, NASA astronauts use VR to practice spacewalking by using it with other technology for the realistic. Another case is Walmart utilizes it to train employees by simulating a store environment. It allows employees to practice stocking shelves and assisting customers.
Although headset shaped and glasses-like AR and VR have several limitations, making users a specific group of people. While some people may still be addicted to the images used only in gaming. However, it can be seen that many organizations or companies have already used this technology for work and learning. It is likely that AR and VR technologies will become more widespread and become common in the future.
Video for More Information: https://youtu.be/2uoBF1-zeLk
References:
https://blog.cloudhm.co.th/ar-vr/
https://www.reworked.co/digital-workplace/